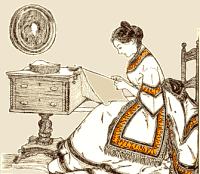 Vintage Patterns
As a gift to Knitters across the world, I am pleased to provide the content of the following out-of-copyright pattern books. While the patterns are free to everyone for all non-commercial purposes, and you may freely link to them, I hereby prohibit the use of these patterns on other websites or in archives without my express consent. For more information, contact Kelly Hurt.
This Australian 74-page booklet, published ca. 1915, has 50 patterns in knitting and crochet. Needle and hook sizes are often given in relative terms (fine, medium, etc.). There is no gauge/tension given. Also included is an 'explanation of crochet stitches'. NOT YET COMPLETE.

The sixteenth edition, published in 1918, has patterns for all members of the family as well as instructions. NOT YET STARTED.